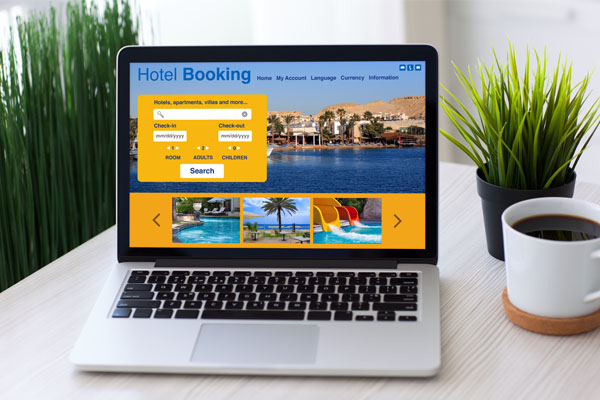 A hotel property management system (PMS) should be the hub of your property. Being able to control, automate and accelerate many operational procedures through your PMS is a big advantage when managing your property. Integrating a channel manager will take your PMS to the next level, and is now an essential tool for hotels, lodges, service apartments, vacation rentals and bed and breakfasts. Continue reading to find out the top benefits of integrating your PMS with a channel manager.
What is a channel manager?
If you want to use an online travel agency such as Booking.com, Airbnb or Expedia, you will need a channel manager to link your PMS to these platforms. With one click from your PMS you can update rates, calendar availability and bookings across all OTA's simultaneously.
For example, if a guest makes a reservation on a website such as Booking.com, the number of rooms available will automatically change on both Booking.com and the hotel's website. Equally, if you close or modify a room on your PMS system, then it will automatically close the room on your OTA's and make it 'invisible' to guests booking online.
Why do I need a channel manager?
Save time and reduce errors
Manually updating each OTA with your rates and inventory is time-consuming and prone to errors. A channel manager PMS integration will automate this process of updating OTA's every time a booking, cancellation or modification happens. This not only saves you time but also helps you avoid errors that might lead to loss of business.
No more overbooking & double bookings
Overbooking and double bookings occur when hoteliers don't have a clear picture of how many rooms are sold, vacant and under maintenance. These mistakes are the main reason why guests are dissatisfied and will usually end up damaging a hotels brand image. When your PMS comes integrated with a channel manager, your OTA's are all updated in real-time, meaning there is no room for error, and you can instantly see how many rooms are vacant. The same applies to cancellations, any cancelled reservations will be bookable again within a few minutes.
Get ready to be fully booked with maximum online visibility
In today's competitive hotel market, it is important to have good online visibility to be able to reach out to more guests all over the world. Identify which regions you want to become more visible in and connect with popular OTA's within those regions. A channel manager puts your property on the global map; integration with your PMS makes sure you can efficiently manage all those extra bookings.
acomos™ offers full integration with SiteMinder which connects and shares your inventory to over 400 bookings channels including booking.com, Expedia, Airbnb and hotelbeds.
There are so many benefits of integrating your PMS with a channel manager, especially when it comes to increasing bookings, reducing overbookings and double bookings, and improving brand visibility. Book a demo of acomos™ to find out how our PMS and integrated channel manager can help you can save time and reduce errors.