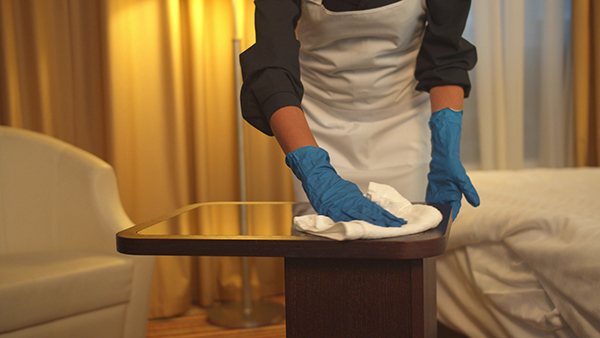 The Coronavirus or COVID-19 has affected the hospitality industry massively over the last few months. Even though there is no way to avoid the virus, hoteliers can take steps to help prevent the spread.
Just in case you need reminding of the symptoms of COVID 19 here they are below:
Cough
A high temperature
Shortness of breath
However, it is worth noting, these symptoms don't necessarily mean you have the virus as they are very similar to a cold or flu symptoms.
Tips to keep your hotel safe
During this uncertain time, we have put together our top tips to keep your hotel safe and minimise the risk to your guests and staff.
1.Encourage guests to wash hands and use sanitiser
Just like having any cold or flu it is vital people are washing their hands and adequate hand sanitation stations are available near doors and reception areas. This will help with controlling germs on any surface that is frequently touched.
2.Provide small gestures for guests
Providing face masks is a really good way to help customers stay protected when they leave your establishment, which could be classed as a thoughtful act of kindness.
Leaving a small health box in each room could also be a great way to help people feel a little more protected and comfortable when staying at your hotel. For example, providing pocket tissues, hand gel, hand cream, face masks, disinfectant wipes, surgical gloves and a little helpful guide on how to stay safe.
3.Brief staff
Giving cleaners extra support where needed could be a great way to stay on top of hygiene throughout the hotel. Ensuring all cleaners are prepped in how to properly disinfect all surfaces and dispose of all used materials is essential to success. Even receptionists should take special measures to properly clean and disinfect their desks to help customers see they are in good hands.
Advising chefs on good hygiene practice is also essential to make sure no food is contaminated.
4.Display signage
Throughout the hotel, there should be relevant signage and information on the Coronavirus. This could include how to wash your hands properly, reminding people to hand sanitise at regular busy spots, reminding people to cover their mouth when they cough or sneeze or use a mask provided at reception, advising customers who feel ill to go home, not to touch your face or mouth and generally just to take certain measures to stay safe. This will give your customers the foundations to staying safe and stopping contamination of any surfaces.
How to respond to COVID 19 enquiries
Every hotel's nightmare is having a lot of their clientele cancel their booking and requesting a refund and it can be quite disheartening when something completely out of your control causes this. Even though these responses may not prevent all cancellations, they should help maintain trust and bring back customers in the future.
It's important to understand that the Coronavirus is a threat to human health, which means putting people first is paramount. Where necessary consider allowing customers to cancel bookings with full refunds even if this does not stick with company policy. If this is not possible, consider offering credit to spend at a later date.
When customers enquire about the Coronavirus or want to cancel a booking, try to offer reassurance over the phone in a friendly manner. Tell them what the hotel is doing to help fight the spread of the virus and sympathise with them to help ease the fear of venturing out their own home.
Conclusion
We hope we have provided you with some useful tips on how to keep your hotel running smoothly, but we do appreciate that the outbreak of the Coronavirus has caused a lot of disruption throughout the hospitality industry. Just remember everyone feels a little uneasy at the moment so having a simple plan to help customers and staff feel a bit more comfortable is the best practice at this time.