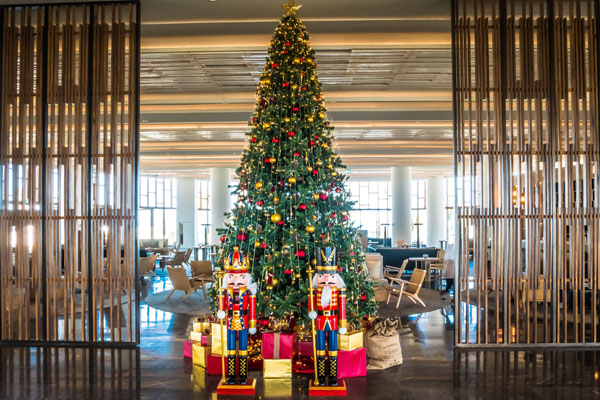 We are fast approaching the festive season and the launch of many holiday marketing campaigns. With businesses continuously looking for new ways to get creative over the festive season, it can be hard to stand out against competitor campaigns and promotions. If you're a hotel, B&B, serviced apartment or lodge wanting to shake up your festive campaigns, read on to find out our top tips on how to stand out in the thick of Christmas.
Show your festive spirit
Christmas is the perfect time to add a festive touch to your digital platforms.
If you've decorated your hotel, make sure to update your social media channels with lots of photos or videos. Update your profile picture with your newly decorated lobby or change your cover photo to a winter wonderland. You can always go one step further by creating festive videos to switch up your content. Videos don't need to have a huge budget to be effective, behind the scenes videos, such as the process of decorating your hotel or your staff getting into the festive spirit, are great to share with followers and adds a personalised element to your social posts.
Provide local travel guides
Your guests will usually be looking for things to do in the local area, and whilst there may not be many festive events going ahead this year, you can still support local shops and restaurants by recommending them in an up to date travel guide. Recommending local businesses is a fantastic way to sell your hotel's local area and you're more likely to build a positive relationship with your local community. You should try to distribute your travel guides on your social media platforms, website and via email marketing.
Adapting to the new normal
If your hotel usually holds an event around this time of year, is there a way it can be adapted? Virtual events have been all the rage this year and offer a much safer alternative to big events.
Perhaps you can hold a virtual seasonal cocktail evening by posting photos of the drinks on social media and invite guests to attend a class to make them for themselves.
Or if you have lots of families visiting your hotel, you could provide a little arts and crafts kit in each room with instructions on how to make their own Christmas decorations. Small gestures are a great way to help your hotel stand out and get people in the festive spirit.
Competitions and Giveaways
Competitions and giveaways are a great way to gain awareness for your hotel, boost engagement and build your following. When done correctly, you can gain new social media followers and email sign-ups, which offer another way to engage with potential guests.
Competitions are always a bit of fun and there are many ideas you can use for the basis of your competitions:
Photo entries are a great way of creating user-generated content, you could hold competitions for the best-decorated house, the ugliest Christmas jumper or the best Christmas bake.
You can also use email marketing to reach out to previous guests to encourage them to follow you on social media and participate in the competitions. Not only this, but you could offer an exclusive competition to your email subscribers, such as a virtual advent calendar. Send out an email for the 12 days of Christmas and get subscribers to reveal if they have won a special prize, such as a free Christmas lunch. This will encourage past or present guests to open your emails and build a bit of excitement. Creating a fun email series is a great way to reach out to guests frequently, without being pushy.
Christmas deals
As there are lots of Christmas promotions, it can be easy to get carried away with discounted room rates, so how do you stand out and ensure guests books directly with you?
To gain a competitive edge, you should consider what your competition is offering to help you identify what you should be aiming for and if you can offer something better. Whilst discounting room rates is the most favourable option, you can also offer vouchers for restaurants, shops or days out.
Another example is creating different holiday packages for families and couples, by promoting the idea of the perfect holiday gift. Include different perks in your packages to entice different people, such as a free bottle of champagne on arrival or afternoon tea brought to your room etc.
In addition to creating exciting offers & packages for the holiday season, make sure to use this period to enhance your overall sales and increase your cash flow for particularly quieter months.
Gift vouchers or gift experiences that can be redeemable during your quieter months can be an effective way to boost cash flow. Gift vouchers can also encourage overspending, as the majority of customers will put a gift voucher towards something that little bit more expensive or spend their money on additional extras.
Follow our social media for more tips and acomos news.
Facebook – @acomos
Instagram – @acomos_software
Twitter –

@acomos_software

LinkedIn – @acomos