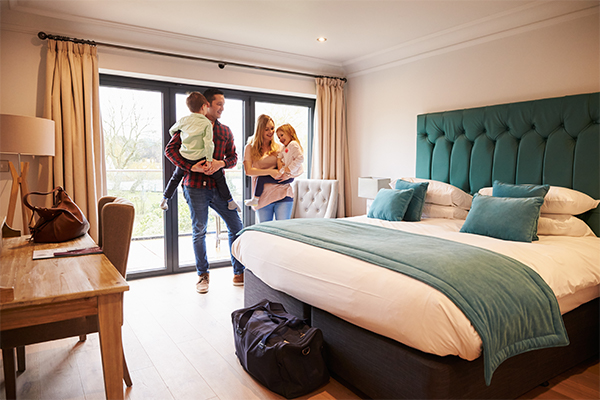 To help your hotel stand out from the crowd you can look to target specific audiences, with families being one of the fastest-growing markets and most lucrative, many hotels now focus on helping parents make their vacation plans as easy as possible whilst making it fun and memorable.
Below, we share 4 simple tips on how you can make your hotel more attractive to small or big families.
Update your website to reflect a family-friendly environment
Most families when looking for a hotel will pick one that can satisfy each family member's needs, so it's important to highlight all of your amenities, whether that's super-fast Wi-Fi that is ideal for heavy internet users such as teenagers or child-friendly menus for fussy eaters, make sure you think about each family member and highlight your perks.
For young children you can provide fairly inexpensive extras, that can make a real difference to the overall experience.
Board games and toddler toys
Children's cutlery and crockery
Disposable bibs in dining areas
A do-it-yourself souvenir for children to take home
Make life easy on arrival
Travelling with a large family can be stressful at the best of times and the check-in process is usually the final stage before the holiday begins.
Train your staff how to interact with families and children during their stay and to anticipate their needs. Take the time to ask if there is anything the family needs, whether that's a drink, baby essentials or the Wi-Fi password, the family will appreciate any help you can give on arrival.
For anyone arriving with a baby, ensure any special requests are made available as soon as they arrive, for example, if a guest has requested a crib, make sure this is ready to go, as young children will often be exhausted after a long day of travelling.
Highlight nearby attractions for both parents and children
The cost of a family vacation can quickly mount up. Particularly when parents are trying to keep their kids entertained with additional trips, activities, and excursions.
You don't need to have the facilities for every age group on-site, instead,  research local activities and team up with the activity provider to offer exclusive discounts for your guests. Ensure your concierge and front desk staff are fully schooled on nearby family-friendly amenities.
Creating fun itineraries for families can be a great way to make holiday planning that little bit easier and make a trip much more memorable.
Communal areas for teenagers
We all know from our former years that travelling with your parents is not always ideal, allowing teens to socialise with kids their age while also giving the parents some alone time can be appealing to both parents and teens at the time of booking.
Ping pong or football tables are always a great option for older children and teenagers who want something to do in the evenings or during some downtime.
Tourism and hospitality businesses are highly competitive, and it is often the small things that can make your hotel stand out from the crowd. For more top hotelier tips, sign up to the acomos newsletter here.