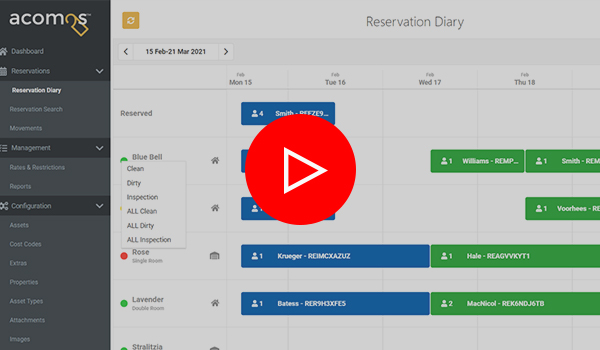 acomos offers a practical housekeeping tool to help you stay on top of your housekeeping operations. Manage your housekeeping staff from your front desk and log real-time room status updates as you go.
Watch our short video to see our housekeeping feature in action.
Housekeeping features
Update the cleaning status of every room
Create and save booking notes for your housekeeping staff
Live room status updates for your reception desk
Features of acomos property management system
Easy Sign Up Online Wizard
Property Management System
Commission-free Booking Engine
Channel Manager
Email Automation
Basic Reporting
Finance & Payments
Setup & Support
Security & Compliance
Easy Rate Updates
Advance Rate Plans & Packaging
Booking Engine Customization
Housekeeping Organisation & Management
To book a free demo of acomos click here.