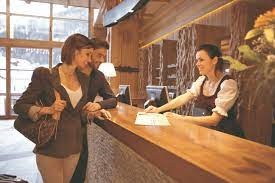 Guest expectations are higher now than ever before and you'll want to compete with the very best accommodation providers to secure your bookings.
To be able to meet, let alone exceed them all, accommodation providers must constantly seek to be innovating their offerings and updating their services. Even if some those updates require months to complete or even worse come at steep prices.
There are quick fixes that don't always cost a lot of money so if a major overhaul is out of your budget just now, we've come up with 7 tips to increase the perceived value of a stay at your property.
If you don't constantly innovate and improve even in small measures then you'll run the risk of damaging your guest experience which in turns means damaging your reputation and profitability.
With that in mind, here are our 7 quick tips to improve your property and guest experience that require minimal time and financial investment.
1. Start engaging with your guests before they arrive
You're going to want to start creating a positive experience as soon as you receive a booking even if it's month before they arrive. Set up email campaigns to engage with your future confirmed guests to introduce them to their stay with you and where applicable any extras you might want to promote to them ahead of their arrival such as local tours or event tickets.
Continue to update your property website and online presence to ensure your guest rooms and public areas reflect their stay and menus keep pace with seasonal changes. Your guest will frequently check back as the date of their stay draws closer to see what's happening at your property.
2. Show your guests you've prepared for their arrival.
Showing your guests you've thought about their arrival will make them feel special from the outset. Every morning review the arrivals for that day; familiarise yourself with names to greet them personally and from where they have travelled to engage in conversation about their trip. Small details will be appreciated and as first impressions count for the majority of guests your welcome will be remembered and set the stall for their stay with you.
3. Have drinks and treats available 24/7
While your property may not have personal drinks makers in your rooms having a communal complimentary hot drink station on each floor or just in reception will be just fine. Guests will welcome the thought that has gone into providing the facility. Placing a treat in each room ahead of the guest arriving is a small gesture but one that will delight!
4. Know your local area and recommendations
Many accommodation providers these days have detailed recommendations for their guests and travellers. Having the latest dining suggestions or places to visit will add a special touch to your guests experience of the local area and make them feel they are getting the inside secrets on the best places to try away from the tourist trails and crowds.
5. Consider your breakfast offerings.
Without doubt breakfast at any accommodation can be a make or break affair for your guest. Think carefully whether you truly stand out and you're not just putting out the usual cereal and cooked breakfast traditions. Something as small as offering a fresh fruit smoothie along with the usual fruit juice choices will leave a lasting impression and delight your guests.
6. Upgrade the finishing touches to you most important amenities
Updating the sanitary fittings and replacing tired shower attachments are small differences that make all the difference to your guests experience of your property. It doesn't necessarily require massive financial investment to keep your rooms sparkling and efficient. Even updating one room at a time can start to improve your guest experience.
7. Add technology and luxury
By using a property management system such as Acomos™ your day to day operations will be more efficient and you'll be able to spend more time focussing on your guests. Adding touches of luxury around your property in decorations or as items in guest rooms will only show your guests their stay with you is utmost in your mind.